Lara Stapleton |  07946 663 443
International Yoga Teacher and Aromatherapist with a speciality in back pain and injury
Lara Stapleton
07946 663 443
International Yoga Teacher and Aromatherapist with a speciality in back pain and injury
I take my students on a deep and explorative inner journey of the body and mind through intelligent yoga
I specialise in healing back pain, injury and emotional trauma
Yoga is about being empowered through your own body, feeling alive, listening and being respectful to whats going on deeply inside
I'm wholeheartedly passionate about teaching, nurturing and facilitating positive change
Yogaroma was founded by myself in 2004. Having trained extensively as a yoga teacher and aromatherapist, I believe that this specific combination – a Scaravelli Inspired Yoga class incorporating the use of oils or followed by an aromatherapy massage treatment – will give you a complete holistic experience, working on all aspects of your being – physical, emotional and spiritual.
The 'Yogaroma Experience' begins with a private yoga session tailored to the individuals needs with specific focus on breath, creating space and expansion, alignment, gravity, awareness and allowing the mind and body to surrender and let go. It is followed straight afterwards by an aromatherapy massage. Oils are blended specifically to the individual, as they are absorbed into the body they act directly on the sense of smell, having a very profound effect on the emotional body, releasing tension, pain, stress and relaxing the senses.
WEEKLY OPEN HATHA/SCARAVELLI INSPIRED YOGA CLASSES
WITH LARA
Monday 7.30-9pm
Hatha/Scaravelli at Yogaloft, Beethoven Street, W10
Thursday 9.45am
Hatha/Scaravelli at The Life Centre, Nottinghill Gate, W8
This Hatha/Scaravelli Inspired Yoga class focuses on somatic movements and asana using the ground, breath, spine, expansion and space. The practice begins on the ground where Lara will guide you away from 'doing' movement but rather sensing and feeling into 'being' movement, opening up sensory awareness and new neurological pathways through the body. Exercises on the ground invite spirals, rotations, circular and sliding gliding movements to reduce myofascial holding and then you are guided from the ground into an intelligent asana sequence to integrate, strengthen, elongate and bring a new found vitality and radiance to your inner structures.
Your mind becomes calm and focused and body free of tension. It's a deeply intelligent, nurturing and grounding practice allowing you to get in contact with your true inner nature without imposing outer layers or a conditioned mind. A truly mediative and transformational experience.
ALL LEVELS WELCOME
A Sole Connection
The Feet are the Gateway to Transformation
Sunday 13th March 2022
2-5pm
Price £30
'Online video classes with Lara'
My new Video Bundles are now available!
Each bundle consists of six videos.
They are all themed and each class is approximately 80 minutes long.
'Online video classes with Lara'
My new Video Bundles are now available!
Each bundle consists of six videos.
They are all themed and each class is approximately 80 minutes long.
Nourishing Chest and Shoulder Openers
Feet Glorious Feet
Nurture and Release the Hips
Staying Fluid
Yoga for the Belly
Bring Vitality to the Psoas
Nourish Your Soul from the Ground Up
Rejuvenate the Kidneys
Mind Your Back
Neck and Eyes Release
The Sacred Pause
Lunging into a Deeper Dive
Payment by bank transfer.
Video download link(s) will usually be emailed to you within 2 hours of payment, however please allow up to 24 hours.
Yoga on a Shoestring Retreats
UK – 2022
Yoga on a Shoestring Retreats
Italy and Turkey 2022
Yoga on a Shoestring Retreats
India 2023
11th-18th March 2023
Cabo Serai, Goa, India
Booking details coming soon
As a trained aromatherapist since 2004, I work very holistically, energetically and intuitively. Essential oils are blended specially to the individuals needs and they have a very profound affect on the emotional body and psyche, relieving stress, anxiety, helping with trauma, adrenal fatigue, hormonal conditions, menopause to name but a few.
For more information on booking treatments at my treatment room in Queens Park NW6 …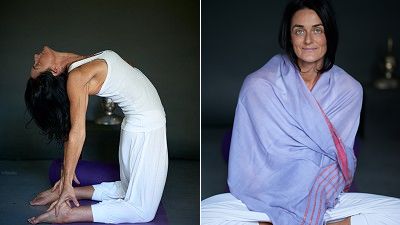 In studio and Live Stream Classes
Monday 7.30-9pm
Hatha/Scaravelli Inspired
In Studio and live stream
@ Yogaloft
Thursday 9.45–11am
Hatha/Scaravelli Inspired
At The Life Centre, Notting Hill Gate
Monday 7.30-9pm
Hatha/Scaravelli Inspired @ Yogaloft Beethoven Street
Wednesday 10.30am-12pm
Scaravelli Inspired @ Triyoga Ealing
Wednesday 12.15-1.30pm
Yin Yoga Open @ Triyoga Ealing
Thursday 7.35-9.05pm
Hatha/Scaravelli Inspired @ Yogaloft Lonsdale Rd
Friday 11am-12.30pm
Hatha/Scaravelli Inspired @ Yogaloft Beethoven Street
A Sole Connection
The Feet are the Gateway to Transformation
Date – Sunday 8th May
2 – 5pm
At Yogaloft, Beethoven Street
Being interviewed by Simon Savage at Yogaloft.
Talking about working with the subtle body and primal movement from the ground up.
Lara's Blog 'Behind the Screen – Teaching on zoom and supporting the sangha'
By Lara Stapleton
These last few months have been a surreal time for sure but also a time of deep reflection and rebirth. To PAUSE is something we have all needed for a long time. When the pandemic hit, the rug was pulled from underneath all our feet at super speed and we were in lockdown with barely anytime to comprehend what was actually happening.
It bought up a whole host of feelings and emotions for all of us. I definitely felt I was riding the waves of different sensations and emotions daily but my sanctuary became presence and radical acceptance. Stepping into the unknown and being ok with it, letting go of the control, surrendering the ego mind, not easy of course, but just having that daily awareness around it helps to shift blocks in our own conditioning.
Filmed in India while I was teaching a retreat, this promo gives you a deeper insight and understanding into the foundational principles of Scaravelli Inspired Yoga and what a healing, nurturing and intelligent practice it is. An invitation to take an inward journey and explore the body and the deep SELF from the inside out without force …
Read more >
The practice of Scaravelli Inspired Yoga uses the earth's energy to release the weight of the body towards gravity, which creates elongation and space along the spine and an effortless breath. It's a deeply nurturing and grounding practice and very primal, allowing you to get in contact with the creature inside yourself without imposing other layers.
It focuses on peeling back the layers and unfolding the body from the inside without force. As you learn to move from the natural flow of the breath and surrender to gravity, it creates a wave like movement in the spine. From the wave, your practice can unfold into beautiful rhythmical spirals and formations … its spontaneous and the breath and spine dance together.
It's profoundly healing in working with areas of resistance, tension, injury and deep emotional blockages. Its NOT a passive practice, small micro movements or larger wave like movements are taking place inside the body all the time. Your unfolding, unravelling and unwinding the body…allowing it to go where it wants to go without force or pushing or pulling.
Movement that is born out of the breath has beauty, grace and softness. You are working from the inside out and moving with total awareness through listening and attentiveness … this helps to focus the mind. It's a meditative practice. There is also a lot of focus on the feet and coming up from the ground into the feet … the legs … the pelvis … to set the spine free. This way of working can be strong but deeply grounding.
<script src="https://apps.elfsight.com/p/platform.js" defer></script><!-- [et_pb_line_break_holder] --><div class="elfsight-app-d714984d-70d1-4ca2-abb1-dfd18364dedd"></div>
Lara's teaching is truly inspirational. She has a calming presence that has managed to make me, one of the most distracted people I know, focused and mindful whilst still challenging myself in the safe, restorative and inspiring environment she provides. I am always energised after my classes with her and look forward to them immensely. The balance of physical and spiritual learning I get from every session is something I hope to continue for a very long time. I feel lucky to have found her as a teacher.
My yoga experience with Lara stayed with me for a long time…Amazing lady with the perfect touch. I just need enough time to have more of Lara in my life!
I would like to thank you for arranging the most amazing yoga holiday which surpassed even my best hopes for the week. Lara is a teacher on a different level. If there was a bronze, silver and gold level, Lara would undoubtedly come in at the platinum level
Lovely Lara, you are filled with love and light that oozes out of your pores! Thanks so much for being so passionate and caring with your gifts; you have so much to give and I am sure our paths will cross again; the perfect 'unwind' for a wound up me – very grateful
Thank you so much for your dedication, enthusiasm and kindness this week. I arrived as an inexperienced and unsure student and I am leaving with enough knowledge and belief in my spine, lungs and feet to enjoy all future yoga experiences. My upper body (spine, ribs etc) has really opened up this week and I am grateful for you facilitating that. Thank you for everything. You are amazingly inspirational and I wish you every happiness that life can offer you. You deserve nothing less
... to receive news about my latest retreats and workshops and special offers
© Copyright 2022 Yogaroma. All Rights Reserved
Studio Photography and Imagery: Emma Woollard. Website: www.emmawoollard.com
Music by Craig Pruess | Video Filming and Editing: Regine Mowill, Here We Go Films, Colette Barlow